All photos are protected by copyright rules
Welcome to SE*Tylökatten!
Tipped British Shorthairs

Silver cats - almost white.
Glittering and glimmering like freshly polished silver!

GIP CH SE*Tylökatten Ashley
Distinguished Variety Merit on 9 November 2019!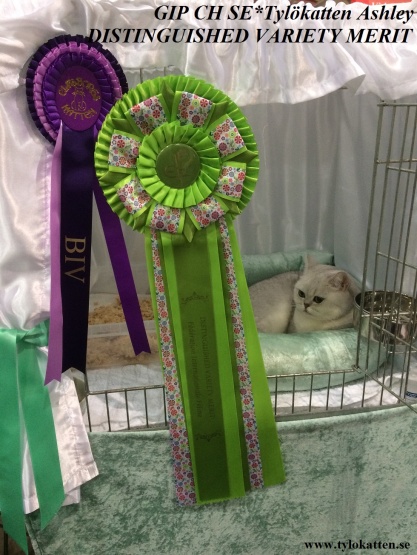 At a FIFe show 9 Nov all were fascinated by the colour of SE*Tylökatten Onslow, here with Emilia and judge Aliosha Romero
SE*Tylökatten is a small cattery near Tylösand, one of Swedens major summer resorts
on the West Coast between Malmoe and Gothenburg.

You are welcome to contact me, if you want further information:
Ingrid Arklund
Please note!
All the photos on this website are protected by copyright laws.
Copying or sharing without my permission might lead to prosecution.